iPresso takes part in the conference and exhibition that focuses on the latest developments and trends across the information and communications technology (ICT), digital multimedia and entertainment technology industries.
CommunicAsia2017, EnterpriseIT2017 and BroadcastAsia2017 officially opened today, unveiling Asia's largest gathering of companies and experts from the world's technology and digital entertainment spheres showcasing a wide array of smart technologies that can be harnessed and leveraged on to build a 'smarter' future, transforming how people live, learn, work and play.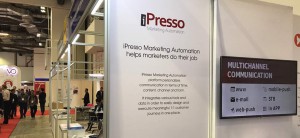 The three exhibitions span 65,000 square metres across Marina Bay Sands and Suntec Singapore, hosting 1,800 exhibitors from 62 countries and regions. 36 international group pavilions are also present, including seven new pavilions from the EU Business Avenues in South East Asia, Taiwan, Russia and two from China and Korea respectively.
"With digital transformation turning into a critical component of Asia's future, we have designed CommunicAsia2017, EnterpriseIT2017 and BroadcastAsia2017 to help companies who are eager to be future-ready," said Mr. Victor Wong, Project Director of Communications Events at organiser UBM SES. "With two venues, we are able to play host to even more leaders and entrepreneurs from the entire innovation ecosystem, open up more opportunities to learn latest trends and network with peers, and provide a holistic and interactive experience for all attendees."