For every ten online shopping carts, only three result in completed purchases – according to the data from Baymard Institute, an independent web usability research institute.
Extra costs and requirement to create an account among top reasons
The overall average online cart abandonment rate is 69,57%. What are the main causes?
First of all, it turns out that six in ten US shoppers who abandoned a cart within the previous three months say that the top reason for such abandonment was the fact that they were only browsing, and were not ready to make any purchase.
Here's the list of more specific reasons provided by American shoppers (respondents could choose more than one answer):
Extra Costs Are Too High (Shipping, Taxes, Fees) — 55%;
Required to Create an Account — 34%;
Checkout Process Too Long/Complicated — 26%;
Couldn't See/Calculate Total Cost Upfront — 21%;
Didn't Trust Site with Credit Card Info — 17%;
Website Had Errors/Crashed — 17%;
Delivery Was Too Slow — 16%;
Returns policy wasn't satisfactory – 11%;
There weren't enough payment methods – 6%;
The credit card was declined – 4%.
How can you win them back?
It's worth remembering that the fact that a potential customer abandoned their cart does not have to mean that he is not coming back to complete the purchase. Solutions such as iPresso Marketing Automation provide salespeople with sophisticated options for recovering abandoned processes and winning back shopping carts.
Thanks to the capabilities of the MA system, the seller can identify the consumer who abandoned the cart, check at which stage of the purchasing process the resignation took place and carry out automated action aimed at its recovery.
For this purpose, you can select the most relevant communication channels available in the system – from e-mails, to SMSes, to web pushes.
How does it work in practice?
An example of using this solution is a situation in which an online bookstore customer abandons his cart after adding several books to it.
Depending on the stage of the purchasing process, iPresso may take an appropriate action. For example, you can provide recipients with customized e-mail that will remind them about their incomplete purchasing process.
Let's assume that a potential customer withdrew at the stage of providing their address details. After noting that the customer has left the website at that stage (no transition to the next step in the purchasing process has been recorded), iPresso can automatically send him a pre-prepared email. In this message you can include a reminder about the books that the customer wanted to buy and encourage him to take the final steps to complete the purchase.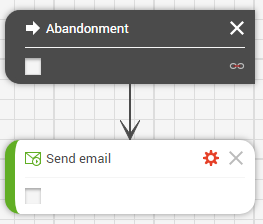 In the case of another customer, who resigned from purchasing at a later stage (e.g. selection of delivery and payment method), the system may automatically deliver a different message – one that will e.g. include information about the discount or free delivery option to which the customer will be entitled, if the value of his purchase exceeds $100.