Almost every successful marketing campaign starts with selecting the target audience. This means you need to have some contacts/recipients in your database. And when you do, you need to effectively manage this database so that you can reach your users/customers with a tailor-made message and benefit from full personalization. Let's talk a bit more about that.
iPresso comes with a built-in contact database management feature. This feature is extremely helpful as it enables you to effectively collect and manage contacts in your database, including:
Customers
Users
Prospects/leads
Vendors
Business partners, etc.
As a result, you can keep everyone who has something to do with your business in one well-organized space. Our contact manager is flexible and intuitive, so you don't have to be trained in data analysis in order to use it. But that's just the beginning of what you can achieve with this feature.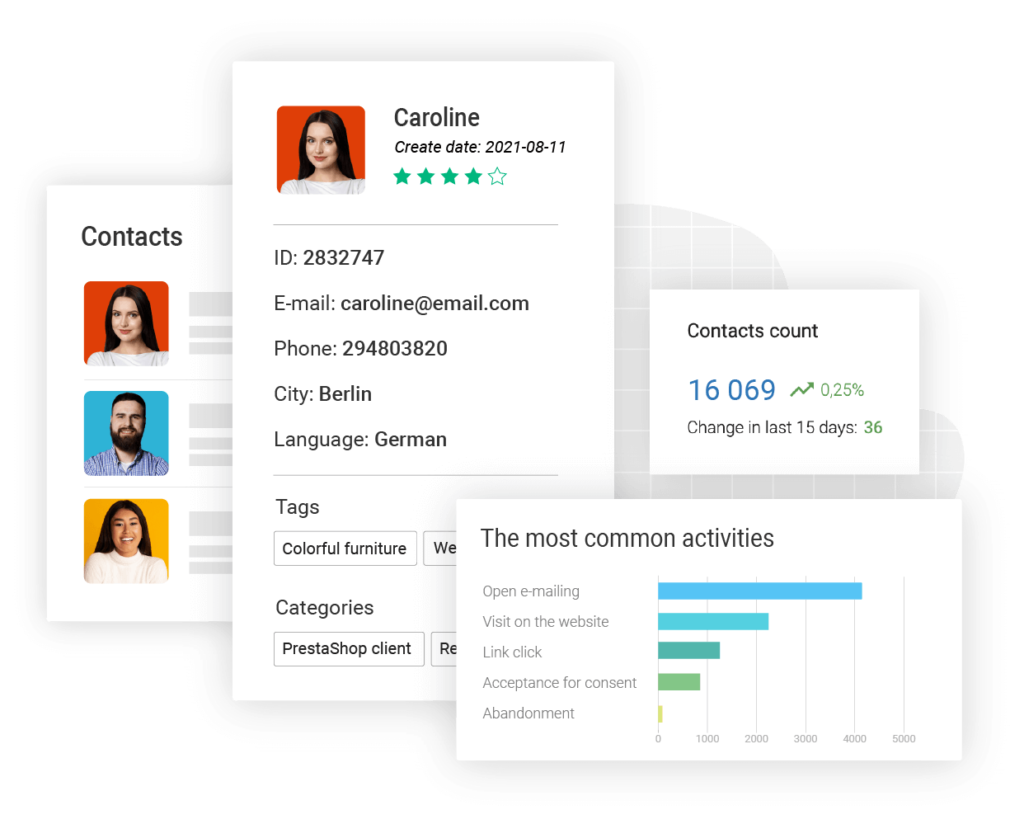 Contact Manager and its features
First off, it's important to note that our database enables you to use any type of contact. If you use data about vehicles (e.g., cars) in your company, you can add them as contacts. This could be used, for instance, to inform regularly about maintenance procedures required for a particular vehicle in the company.
Additionally, iPresso enables you to assign specific attributes to each contact. These are custom fields allowing you to give more information about a given person. Attributes can be made of different types and quantities of data to maintain full relevance to what kind of information your company processes on a daily basis.
If you have access to this kind of information, our system can collect information about your contacts' activities – behaviors and actions taken by each and every person in your database. Again, let's use an example. Suppose you run an e-commerce business. In this case, every purchased product is an example of an action taken by your customer. So is every contact form sent to your company and every product placed in the cart. Collecting and analyzing such activities enables you to understand your customers better and fulfill their needs more effectively.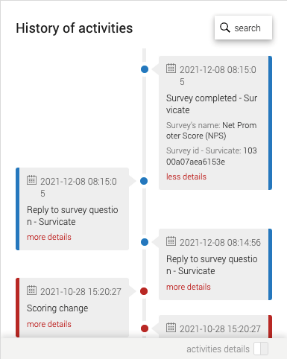 Lastly, there's a timeline allowing you to see when a given person was more and less active when it comes to interactions with your company. As a result, you benefit from a full picture of your target audience – you know who is your customers, what they are interested in and what actions they take.
All of that gives you a much more detailed view of your contacts. If you're smart about it, you can use this knowledge to achieve the following goals:
Tweak your company's offer
Introduce new products and services
Run more effective marketing campaigns
Introduce full personalization to your business
And speaking of personalization, we want to turn your attention to one more important feature – building relationships between contact.
Relationships between contacts
This is one of our special features you can't find in every marketing automation system. iPresso enables you to combine individual contacts into relationships. Let's have a look at some examples of typical relationships:
Company -> marketing department -> MA specialist
University -> Computer Science department -> Head of the department
Company -> employee -> company car -> car service center
Of course, you're not limited to business types of relationships. If you sell pet products, you can easily create an "owner -> pet" type of relationship.
This feature is extremely useful when you want to maximize the effectiveness of your marketing and sales efforts. Here, personalization plays a crucial role. Let's go back to our pet store example. Suppose you have a customer who has a parrot named Lucy. Knowing that, you can send messages encouraging this customer to drop by your store and buy something for her parrot, just like in this example:
"Hello, [first name]! How's Lucy? You surely want what's best for her, so we thought you'd like to check this new toy for parrots out. It's a novelty in our offer, and we're getting really positive feedback about it from our customers. We're sure Lucy will love it, too!"
And one more example, with the company car this time. If you run a car service center and you know that car X is owned by a company and usually driven by a sales rep called Mark, you can send him a personalized message saying something like that:
"Hey, Mark! It's warm outside; the temperatures don't go below 7 degrees, so it's time to put summer tires on your [brand and model name]. Call our shop or reply to this message to schedule a quick appointment."
Why are these messages effective? Because they are sent to the right person at the right time. And since they utilize the data you have in your contact manager, you can personalize them on a whole new level, far beyond just putting the first name in the message.
Benefits of using relationships between contacts
With this kind of personalization, you will be able to see an increase in interest among your customers/users because they are now receiving messages that are fully tailored to their particular situation. You will also save a lot of time on creating personalized messages and campaigns, as almost all the input you need is already there in our system!
Do you want to know more? Take a look at this thorough article where we discuss Contact Manager in detail. As always, we also encourage you to give our platform a try. You can do so by asking for a free trial access.