On our blog, we frequently mention that personalization is all about reaching the right customer with the right message at the right time. Context-based marketing (sometimes referred to as contextual marketing) has the same goal. Let's have a closer look at what this technique has to offer.
Context-based marketing is all about leveraging contextual information to reach potential customers on various stages of their customer journeys. To show you how context-based marketing works, let's use a simple example.
We have a customer, let's name him Mark, who's looking for new skis. At first, Mark wants to explore available types of skis and understand the differences between them. He starts with Google and quickly finds a guide explaining different types of skis on a ski store's website. Mark picks downhill skis and sees there's a link to a comparison of different types of downhill skis. Mark wants to explore some models once he knows what kind of skis he wants. And there is the link to a comparison of TOP10 skis of the same type that Mark picked. In this comparison, he sees not just dry pluses and minuses but also pictures and customer reviews. Mark decides to buy one model that has really good reviews and is reasonably priced.
In this example, Mark viewed three different blog posts and a product tab before he placed an order. And every single blog post and every single product link did not appear on Mark's purchasing journey accidentally. They all were the result of context-based marketing!
So, what is context-based marketing (CBM) exactly?
If we had to coin one universal definition of context-based marketing, we would have to say that it's a marketing strategy that involves the strategic delivery of marketing and sales content (e.g., blog posts, offers, emails, and ads) to customers at precise stages of their buyer's journey. The timing part is crucial here. Mark wants to read about different types of skis NOW, not in two weeks, right?
As you can see, context-based marketing relies heavily on content marketing. And yes, both techniques have a lot in common and they benefit from one another, which allows you to deliver effective and personalized information to your target audience.
Moreover, contextual marketing uses behavioral targeting to serve relevant (or contextual) information and ads to your target audience members based on their interests and behaviors. Behavioral targeting is all about analyzing the behavior of your customers and reacting to it. In our example, behavioral targeting algorithms recognized that Mark probably wants to know more about skis. As he was discovering more and more about them, his readiness to buy was increasing. At the end of this process, he was ready to place an order, so that's exactly what he was served with – a product tab.
Other forms of context-based marketing
CBM doesn't have to be based strictly on what people are searching for or what they are reading online at the moment. It can also be based on external conditions (e.g., upcoming weather change), customer's location (e.g., the proximity to a given store), or used channels (e.g., an offer for people who have just downloaded a given mobile app).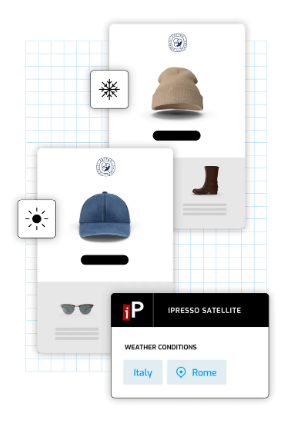 That said, if a store sends a message to everyone within five miles of it, it's context-based marketing. If a company wants to increase downloads of its mobile app and they encourage people to download by giving them a discount, that's also context-based marketing. In fact, this term can be very broad as CBM is all about, yes, context. Therefore, it's not constrained to any given channel or form of communication. That's what makes this technique so flexible.
What do you need to benefit from context-based marketing?
It all starts with the content. Contextual marketing cannot function without it. The best way to achieve this is to create some combinations of blog posts, emails, push notifications, and offers (i.e., product tabs). Again, let's use some examples:
A blog post on how to select a bike rack for an SUV leads to offers of racks that fit such cars
A newsletter about new products in the store has links to these products so customers can quickly view and buy them
A push notification about upcoming weather changes has a link to winter jackets
It's all about combining the message/information with the offer.
Secondly, you need a behavioral targeting system that will be able to analyze the behavior and interests of your customers/users and tailor the message accordingly. This is where marketing automation, data analysis, and personalization overlap. To some extent, that's how you can use our MA scenarios.
With our platform, we have one more feature that will help you make the most of context-based marketing. Read on to see what we have in mind 🙂
Benefits of context-based marketing
Contextual marketing helps you maximize the effectiveness of your content: Promoting content is not always easy. With CBM, you can use almost all of your blog posts and newsletters to attract potential customers and close more deals.
Context-based marketing helps you sell more: Sales is all about reaching people willing to buy with the right offer. And that's what CBM is about. If you approach this question correctly, you can turn CBM into a money-making machine.
Contextual marketing helps you use your channels effectively: Context-based marketing enables marketers to select the most appropriate channels for reaching their target audience based on their context. By delivering messages through the right channels, you can maximize the visibility of your content and, in turn, your target audience's engagement.
CBM offers enhanced customer experience: In our example, Mark wasn't necessarily aware that each new post is a result of CBM. But he surely appreciated the fact that he didn't have to sift through hundreds of pages to get to the content that he needed. He saved a lot of time (and probably some nerves, too) and was satisfied with the CX this website offered.
Leverage context-based marketing with iPresso
When you take a look at the list of our features, you will quickly see that many of them can be used for CBM purposes. However, there is one specific feature that we want to show you – content automation. It's plain CBM, as our content automation feature automatically adjusts the content of your ad or message to provide your customers with personalized content. For example, a university can use content automation to provide visitors interested in psychology studies with more information on their offer and studying conditions.
Would you like to see how content automation can work in your company? Start today with a free trial!