B2B marketing differs significantly compared to B2C. Here, the majority of marketing activities revolve around supporting the sales process. Although there is room for strictly image-based campaigns, the fact is, B2B companies are mostly focused on increasing sales. If that's true in your case, how can marketing automation streamline your everyday work?
At iPresso, we understand that B2B companies have different marketing needs. And our offer is tailored to them, as many of our features have been designed primarily with B2B companies in mind. So, without further ado, let's see how iPresso can support you in growing your business and getting more clients.
Marketing automation comes in handy concerning four major business areas:
Lead generation
Sales growth
Target audience management
Measuring CX
Let's have a closer look at each of these points.
Lead generation
According to a study published by Marketing Charts, lead generation is a big challenge for a vast majority of B2B companies:
And that's not surprising. Every successful sales process starts with finding high-quality leads/prospects. In B2B, the sales process is oftentimes complicated and time-consuming (it can stretch for weeks!). This means you need every help to identify and engage qualified leads. What's the role of marketing automation in this area?
While MA won't go out there and look for the leads for your company, you can use this tool to convert visitors to your website into potential clients or, at the very least, qualified leads. First off, you can create an automated registration/contact form that facilitates the collection of email addresses from potential customers. Such a form is usually accompanied by a lead magnet (a free consultation or something to download) to make it more effective. Creating a newsletter and offering subscribing to it is also a good idea!
Such a form can be seamlessly incorporated into your website or function as a pop-up advertisement. Additionally, it can be integrated with your sales department, enabling your salespeople to receive instant notifications for every completed form. As a result, your potential clients can expect a quick reaction from you, which contributes to a better CX.
When you use iPresso, every time a potential client sends out the contact form or subscribes to your newsletter, our platform gathers their data and puts it in your contact manager so that you can use it in future marketing activities.
But you can improve your lead generation efforts when it comes to anonymous users, too! Our algorithms can "catch" anonymous users and engage them in communication with on-site messages (e.g., pop-up with sign-up form) or consent to receive push notifications. This also helps you with getting more leads in your business.
And then, once you have new leads in your database, you can set marketing automation scenarios to engage them in conversation, depending on their interests and activity within your company. This part is frequently called lead nurturing – you already have a lead in your database, and now your goal is to encourage them to place an order or to start cooperation.
Sales growth
Although the sales process can be quite complicated in the B2B world, many B2B companies sell their services directly through their websites. Some examples include SaaS companies, marketing agencies, and hosting providers. You can simply go to their websites and select the pricing plan that suits your needs.
If that's the case with your company, you can benefit from product and content recommendations. This is something iPresso can help you with as well. Here, we want to show you two features:

Recommendation frames – you can use them to show specific products/features on your website, especially if you want to show something relevant based on your client's past activity on your website.
Content automation – this feature comes in handy when you have a lot of content designed for diverse target audiences. Let's use an example, suppose you run a web design company, and you've written an exhaustive blog post on how to select the best hosting. It's surely a good idea to show this post to every new visitor to your website and use it to redirect them to your hosting-related services.
Target audience management
The more leads and clients you have in your database, the more important it is to manage them effectively. After all, quick and easy access to your recipients can result in improved sales and better CX. With iPresso, you can keep all of your prospects and clients in one place, with easy access to their accounts as well as specific pieces of data (e.g., email addresses).
We fully understand the significance of good contact database management. That's why we have three features that facilitate this part of your sales efforts:
Contact database management: This is our basic solution giving you access to all relevant data. Our CDM feature enables you to check actions taken by a given person as well as set relations between different customers (e.g., manufacturer-distributor) and other attributes.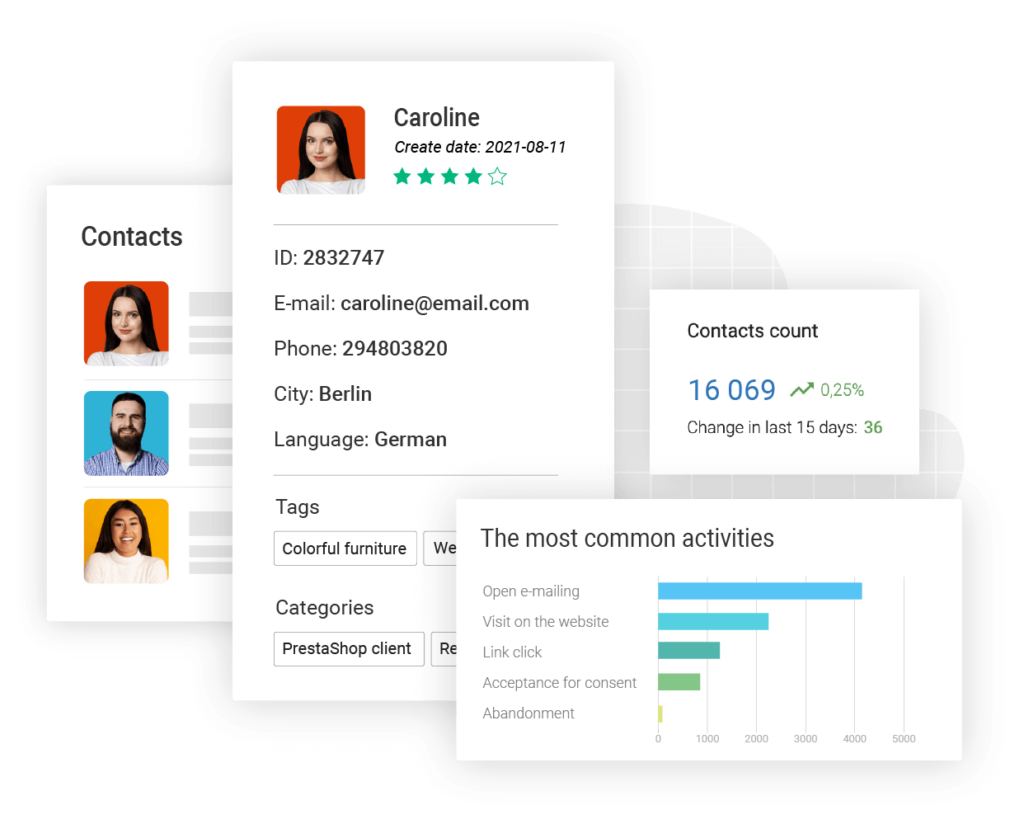 Data collector: This feature allows you to collect activities on your website, update contact attributes, or add new contacts. For instance, you can set the data collector to let you know every time someone downloads your lead magnet or signs up for a newsletter. 
CDP: Our customer data platform is a more advanced version of our tool mentioned in the first point. It integrates data from many different sources (e.g., your website, social media profiles, and CRM) and has more advanced analytics features.
All these tools help you collect, manage, and utilize customer data in order to streamline your marketing and sales efforts.
Measure CX
Surveys are important, not just in B2C. In fact, B2B is based on relations even more than B2C relations which frequently aren't so close. If you run a B2B company, you should make sure your clients are satisfied with your company and the entire collaboration.
Again, you can ensure that by using two features available within our platform:
NPS surveys: This survey is very common in the online world and is used to measure client satisfaction and loyalty.
Standard surveys: They come in handy when you want to ask about something specific. For instance, if you've recently changed your pricing plans, you can create a short survey asking about them (e.g., "Did you find a pricing plan that's tailored to your needs?").
Wrapping up
As you can see, marketing automation can make your life easier and help you get and engage more clients. We want B2B companies to succeed! That's why we've made a separate subpage on our website just for them. If you're looking for B2B marketing automation, start here. 

If you decide you want to give B2B marketing automation a shot, you can fill out a short form and ask for a free trial.