Pipelines are one of the advanced reporting features in iPresso that allow marketers to track marketing and sales processes in real time.
This solution enables marketers to keep an eye on the flow of contacts through various stages of communication, lead nurturing processes and marketing campaigns. Pipelines are based on segmentation – iPresso automatically checks current number of contacts in any given segment, which may be made up of a selected group of potential and current customers recorded in the system.
The data on the number of contacts in different segments, the ability to compare them, and to monitor conversion between them allow marketers to stay up-to-date with the effectiveness of their campaigns.
Let's take a look at an example of a pipeline set up for a campaign carried out by an eCommerce store.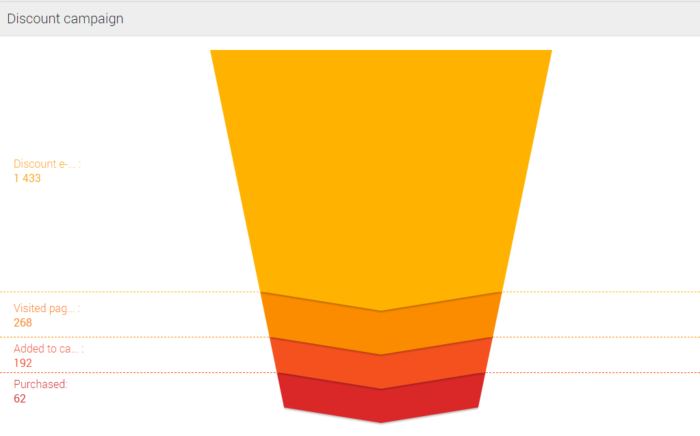 1. Sending an email with a discount
Thanks to the data on contact activities and preferences that is constantly collected in iPresso, marketers are able to select (e.g. on the basis of scoring points) the group of contacts to which the email with a discount coupon will be sent.
Each contact that belongs to that segment will receive a relevant personalized message about the opportunity to buy, for example, a pair of fashionable shoes at a discount.
This segment will be the first stage of the pipeline that will be used to visualise the flow of contacts through the campaign.
2. Displayed pages
iPresso keeps track of contacts' reactions and activities in real time. The second stage of the pipeline will include contacts who are willing to view the offer.
This segment will include users who opened the email and clicked on the link (included in its content) leading to website with products offered at a discount.
The conversion rates between the first two stages will constitute an important piece of information on the effectiveness of the message.
3. Products added to the cart
The third stage of the process will include those contacts who found the offer to be attractive enough to put the product in their cart.
It is important to keep in mind, though, that the addition of the product to the cart doesn't have to result in the purchase. When it comes to abandoned carts, iPresso allows marketers to run automated processes aimed at recovering them.
4. Purchase
The last stage of the pipeline will be made up of contacts who finalised the purchase. The data on the conversion rates between the stages will enable marketers to draw conclusions about the effectiveness of their actions.
This will be the basis for optimization and customization of future processes. One of the undoubted advantages of this solution is the ability to set up particular segments in any possible manner, which allows marketers to adjust their pipelines to specific needs of their company, or to a particular campaign.