iPresso launches Satellite – a new, ground-breaking feature which will enable marketers to run automated campaigns based on sophisticated data collected from external sources.
What is iPresso Satellite?

iPresso Satellite is a trailblazing solution that takes marketing automation to another level. This feature allows iPresso to collect almost unlimited types of data from various sources, which may then be employed in automated marketing campaigns conducted in the system.
What data are we talking about?
The first type of data that will be made available in iPresso Satellite will be weather information. In the future, iPresso Satellite will allow you to take advantage of many other kinds and sources of data, such as stock market indexes, currency exchange rates, air quality data or sport scores.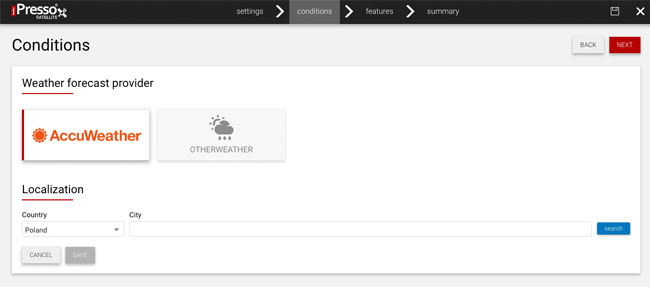 In what ways can I use data collected by iPresso Satellite?
In iPresso Satellite you can define various conditions which will have to be met to trigger specific marketing actions.There are two types of conditions – internal and external ones. Internal conditions are based on the data that comes directly from iPresso, such as the number of contacts in a particular segment. In the case of external conditions, the data will be collected from other sources, for example, from weather forecast providers. Such a condition may be met, for example, when the temperature in the city you selected rises above specific level.

When a particular condition is fulfilled, for example, the temperature in New York falls to 3°C, iPresso may automatically launch a marketing campaign with the use of MA scenarios, actions on sites (pop-ups) or actions in apps. It may sent out communications about promotions on winter clothes, tyres, or skis.
What makes iPresso Satellite special?
Capability of using any kind of external data as a trigger of sophisticated campaigns provides unlimited opportunities for marketers. iPresso Satellite is an innovative solution that may be used in a variety of ways depending on company's needs and goals. This feature makes possible actions that most marketers hadn't even dreamt about!