According to Experian Cross-Channel Marketing's Q3 2016 Email Benchmark Report, abandoned-basket emails are an efficient way of encouraging consumers to complete their transactions. iPresso's new feature allows marketers not only to automatically send a personalized message to customers who abandoned their carts (or for example, their hotel bookings), but also to carry out elaborate marketing scenarios using various communication channels.
iPresso gives marketeres many opportunities to retarget the customers who have abandoned their carts or booking processes.
How does it work in practice?
Let's look at an example of a potential guest who visits a hotel's website and begins the booking process but doesn't complete it. When iPresso detects that he started to make the reservation but failed to finish it, it will automatically define his behaviour as an abandonment.

Such an abandonment of a process, may then be used to automatically trigger multichannel personalized scenarios aimed at bringing the customer back.
Below you can see an example of a complex scenario employed by a hotel to recover abandoned bookings.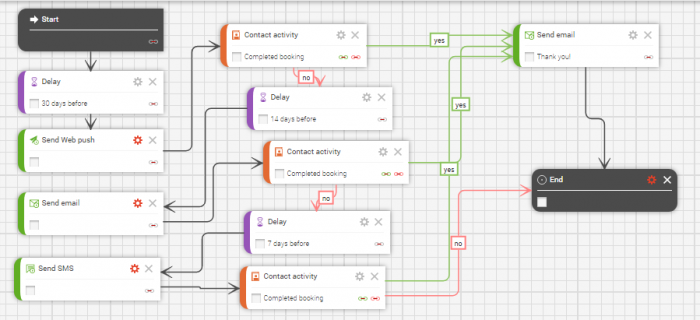 We can see complex paths with various communication channels (web push notifications, emails, text messages) used at various stages of the campaign.
The delay blocks allow marketers to keep the system waiting for a convenient moment to remind customers about their abandonments.
If a message they receive makes them complete the booking, they will automatically receive a Thank you message. If a message is not successful, the system will continue to perform all the following actions specified in the scenario. Designing such a scenario is up to marketeres, but once it is turned on – it can go on for years, automatically recovering abandoned bookings.
Studies show that reminding customers of their abandoned processes by sending them customized and personalized messages is an effective way to encourage them to complete their purchases. With iPresso, marketers are able to design most advanced scenarios that can leverege all the data gathered in the system databases.
Moreover, when the booking process is succesfully completed, it can automatically trigger another scenario in the system, for example one that is aimed at delivering attractive car rent offers to the hotel guest.